The regulatory situation in Africa: a complex landscape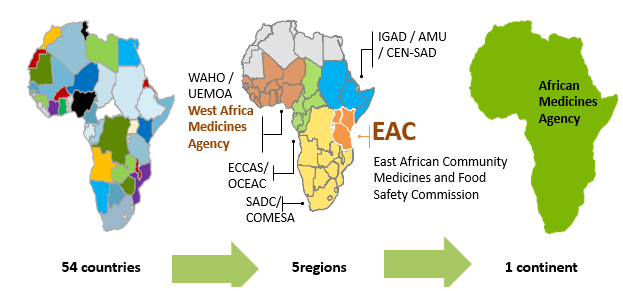 The regulatory situation in Africa: a complex landscape
In recent decades, there have been several processes to harmonise pharmaceutical regulations around the world. Africa has joined the same dynamic and progress in forming different pharmaceutical regulatory groups to harmonize as much as possible the regulations throughout its different regions and strengthen its capacities facing public health problems.
In this context, the Regional Committee of the World Health Organization (WHO) has adopted for Africa, a regional strategy on medical product regulation to improve the governance of medical product regulatory systems in its Member States; strengthen the capacity of national pharmaceutical regulatory authorities to perform regulatory functions and strengthen regional regulatory harmonisation and convergence.
Several national and regional initiatives have been performed to strengthen and support the regional harmonisation of standards and regulatory policies in the African continent. The African Union (AU) comprises 8 regions and has 55 member states: Central Africa (9 states), East Africa (14 states), North Africa (7 states), Southern Africa (10 states) and West Africa (15 states).
National Regulatory Systems in Africa:
At national level, all Member States have set up regulatory systems with varying functional capacities and various levels of maturity from one country to another.
The number of countries that have autonomous or semi-autonomous regulatory bodies reached 51% of countries in 2020. These member states are Algeria, Benin, Botswana, Burkina Faso, Comoros, Ivory Coast, Eritrea, Ethiopia, Gambia, Ghana, Kenya, Liberia, Madagascar, Malawi, Namibia, Nigeria, Uganda, Democratic Republic of Congo, United Republic of Tanzania, Rwanda, Sierra Leone, South Sudan, and Zambia.
To date, four African national regulatory authorities (NRAs), namely Tanzania, Ghana, Egypt, and Nigeria, have reached maturity three for pharmaceuticals products, a designation attributed by the World Health Organization (WHO) to a country with a stable, functional, and integrated regulatory system. Egypt has reached Maturity Level 3 in the regulation of locally produced and imported vaccines, while the others have reached this level for medicines and imported vaccines.
The African Medicines Regulatory Harmonization (AMRH) Initiative
At regional level, the Harmonisation of Medicines Regulations in Africa (HMRA) initiative has been implemented in the different regional economic communities (RECs) officially recognized by the African Union.
This initiative has permitted to formulate proposals for the harmonization of pharmaceutical regulations within the different regional economic communities, namely: the Southern African Development Community (SADC) in Southern Africa, the Economic and Monetary Community of Central Africa (CEMAC) and the Economic Community of Central African States (ECCAS) in Central Africa, the East African Community (EAC) in East Africa as well as the Economic Community of West African States (ECOWAS) and the West African Economic and Monetary Union (WAEMU) in West Africa and the Intergovernmental Authority for Development (IGAD).
Although all RECs implement programmes to harmonise drug regulation, various levels of maturity have been achieved. Indeed, the EAC, the SADC through the collaboration ZANZIBONA, ECOWAS and WAEMU have succeeded to put guidelines for the registration and authorization of pharmaceutical products.
The African Medicines Agency (AMA)
In order to support and promote the regional efforts within the framework of AMRH, the African Medicines Agency (AMA) was established in January 2015 and officially came into effect on November 5, 2021. A total of 23 Member States have signed, ratified, and deposited the instrument of ratification: Algeria, Benin, Burkina Faso, Cameroon, Chad, Egypt, Gabo, Ghana, Guinea, Lesotho, Mali, Morocco, Mauritius, Namibia, Niger, Uganda, Rwanda, Saharawi, Seychelles, Sierra Leone, Senegal, Tunisia, and Zimbabwe.
Its main objective is to improve the capacity of Member States and RECs to regulate medical products in order to improve access to quality, safe and effective medical products on the African continent. It should also promote the adoption and harmonisation of policies and standards for the regulation of medical products, provide the necessary scientific guidance and coordinate existing regulatory harmonization efforts in RECs and Regional Health Organisations (RHOs) recognized by the African Union.